HOW I LOST MY RELIGION AND FOUND MYSELF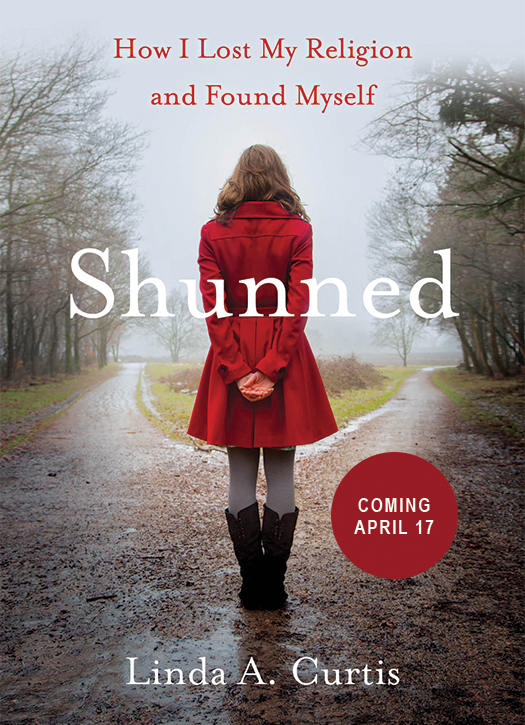 Linda A. Curtis was raised as a Jehovah's Witness and is an unquestioning true believer who has knocked on doors since she was nine years old—until, one day, she has a jarring doorstep encounter that changes everything.
Shunned follows Linda as she steps into a world she was taught to fear—a choice for which she is shunned by the entire Witness community, including all members of her immediate family—and discovers what is possible when we stay true to our hearts, even when it means disappointing those we love.
Pre-Order Book Today!
"I have met dozens of exiled young people shunned for their crime of finding the world and daring to think freely who are mired in longing for their religious families. Linda Curtis stunningly captures the loss and necessary courage it takes to grow into a unique individual in a rubber stamp world, and the stubborn thwarted love that lives on. Shunned is a vital book for our times."
-Leah Lax, Author of Uncovered: How I Left Hasidic Life and Finally Came Home
"A profound, at times fascinating, personal transformation told with meticulous detail. The author's radical transformation—from dogmatism to relativism and from timidity to self-assurance—unfolds gradually. Beyond providing an eye-opening look at her former religious community, this memoir subtly encourages readers to challenge childhood views in search of chosen beliefs."
-Kirkus Reviews
"Shunned addresses universal themes of belonging, connection, meaning, and family togetherness; it will resonate across faith lines."
-Foreword Reviews
"This memoir of faith, struggle and rebirth will have you on the edge of your seat. It's brilliant, respectful, insightful and most of all hopeful."
-Openly Bookish
"Shunned is a beautiful and moving account of discovery, awakening, and courage. Linda's candor, insight, and warmth are a gift."
-Marc Lesser, Author of Less: Accomplishing More By Doing Less
"Linda's brilliant writing lights up the page. She speaks with great authenticity, insight and candor. This book is a wonderful inspiration for anyone who has been trapped in religious dogma or constricted by social and family pressures. Her courageous journey beautifully illuminates the path to find one's freedom in the face of being shunned."
-Mark Coleman, Mindfulness Meditation Teacher, Author of Awake In The Wild
"This is an unforgettable story from a brave and beautiful woman who has turned her tragic experience of being shunned into an inspiring opportunity to create and claim a life of integrity, joy, and purpose. Her pain and grief, courage and compassion, strength and insight, will deeply touch every reader."
-Lynne Twist, global activist and author of The Soul of Money: Transforming Your Relationship with Money and Life

"Disturbing, heartbreaking, and ultimately inspiring, Shunned is a must-read for anyone who has endured the pain of saying good-bye in order to find their true home, a place of belonging."
-John Perkins, author of NY Times bestseller Confessions of an Economic Hitman and The World Is As You Dream It

"What a pleasure to journey with Linda Curtis in her brave, captivating story of really growing up all the way. I read this book deep into the night and picked it up in the morning, unable to turn away from the unfolding adventure of a young woman determined to live a true life."
-Sherry Ruth Anderson, coauthor of The Feminine Face of God and The Cultural Creatives

"You can't read Shunned without realizing that Linda's story is, writ large, the primal story of leaving home, in which you can't become yourself without betraying your family. A wonderful book that is about so much more than the Jehovah Witnesses."
-Adair Lara, long-time columnist for the San Francisco Chronicle and author of Hold Me Close, Let Me Go